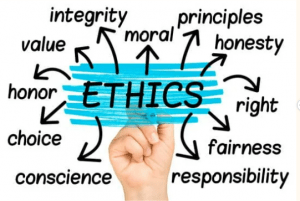 The National Association of REALTORS® (NAR) long-standing Code of Ethics ensures REALTORS® conduct business with integrity and cooperate with each other in furthering clients' best interests.
REALTORS® are required to complete ethics training of not less than 2 hours, 30 minutes of instructional time. The training must meet specific learning objectives and criteria established by the National Association of REALTORS®.
2021 Code of Ethics & Standards Practice
© 2021 NATIONAL ASSOCIATION OF REALTORS®, All Rights Reserved
An ethics complaint may be filed by anyone who believes a REALTOR® has violated the Code of Ethics.
Any complaint reviewed by the Grievance Committee must site a specific article(s) and include a statement as to why that article(s) has been violated given the facts and circumstances of the particular case. Note the complaint must be filed within 180 days (not 6 months) after the facts become known or could have been known in the exercise of reasonable diligence.
Helpful tips
• The REALTORS® Code of Ethics consists of seventeen (17) Articles. The duties imposed by many of the Articles are explained and illustrated through accompanying Standards of Practice or case interpretations.
• Your complaint should include a narrative description of the circumstances that lead you to believe the Code of Ethics may have been violated.
• Your complaint must cite one or more of the Articles of the Code of Ethics which may have been violated. Hearing panels decide whether the Articles expressly cited in complaints were violated - not whether Standards of Practice or case interpretations were violated.
See the process for filing a complaint
Simply put, mediation is a structured negotiation facilitated by a neutral third person called a "Mediation Officer." The
Mediation Officer assists the parties in a dispute to arrive at a mutually agreeable settlement. The Mediation Officer
clarifies issues while remaining dispassionate and focused. He or she guides the discussions between the parties. By
providing a forum in which the parties can tell their sides of the story in a non-confrontational way, the mediation officer
helps find common ground on which to resolve the dispute.
A request for arbitration may be filed if a contractual relationship exists between two parties and involves a specific monetary amount, which will either be awarded to one of the parties involved or split between the two parties.  Note that parties subject to arbitration must agree to be bound by the award.  Also, the request must be filed within 180 days (not 6 months) after the facts became known or the closing of the transaction, whichever is later.