Real Estate is complicated. CDA MLS makes it simpler.
The Coeur d'Alene Multiple Listing Service provides a customized experience, the most in-depth and accurate data, and a powerful set of tools to make the local real estate market work.
The Coeur d'Alene MLS Service area covers Kootenai, Benewah, Shoshone, Bonner and Boundary counties in Idaho.  Properties from other Idaho counties and in Washington or Montana (if both you and your Coeur d'Alene MLS broker are licensed in the applicable state) may also be added if they lie within 75 miles of our service area.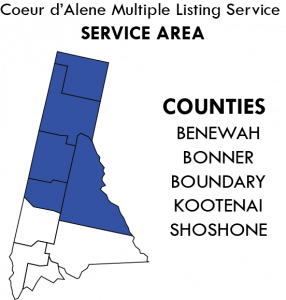 CDA MLS offers a core set of products bring together the simplest tools in orgainzed real estate at your fingertips for powerful results for your bsuiness to ensure we are providing you with the most comprehensive and accurate data in your marketplace.

Flexmls
The main listing software, Flexmls provides unmatched search, client collaboration, reporting, and mobile tools in the industry, allowing agents to work anywhere, anytime and on any device.

MarketStats
Benefit from InfoSparks for agents and MarketView for Broker's providing in-depth analytics to help you better understand your local real estate markets and help guide sales and marketing decisions.

ShowingTime
A responsive experience that will revolutionize the way showings are scheduled. Get the tools to succeed, including online scheduling, in-depth reports and more.
Coeur d'Alene MLS understands how important mastering the MLS system is to your business. Our goal is to partner with you and equip you with the skills and knowledge necessary to conduct your business effectively. Whether you are just starting out, need a refresher, or want to learn some new tips, we are confident you will find our classes relevant, informative, and helpful. Visit our events calendar to see what classes are available.