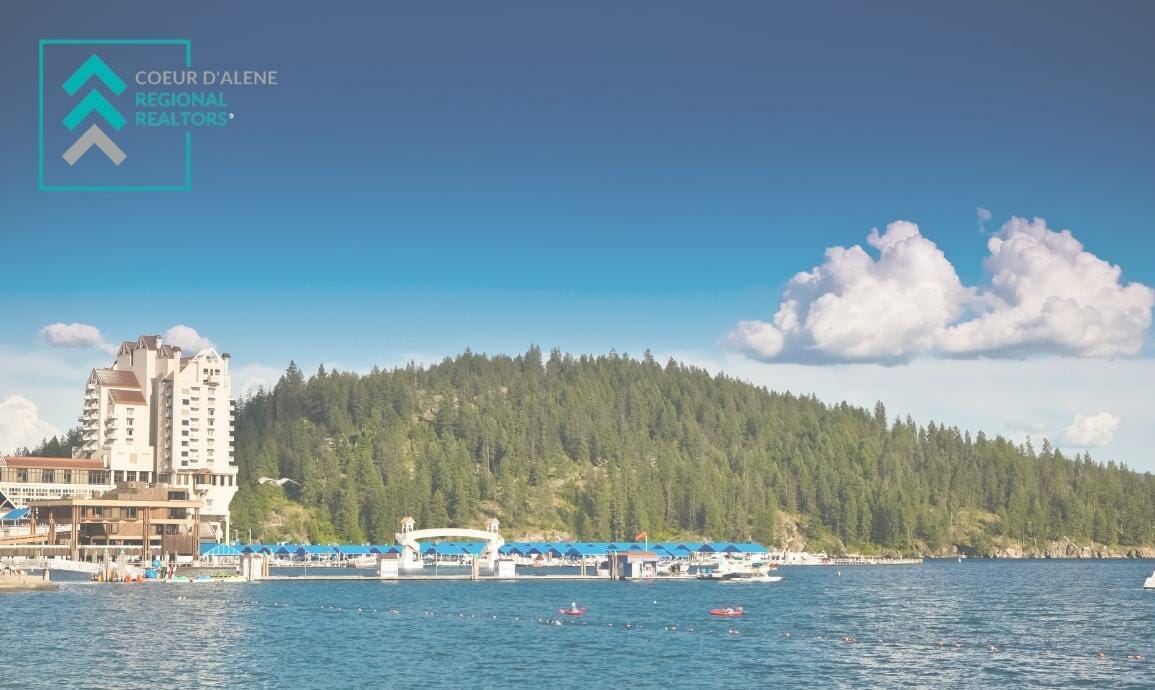 In July 2017, an article in People Magazine about the wedding of actress Julianne Hough featured flattering photographs and plenty of copy extolling the virtues of the venue: Coeur d'Alene, Idaho.
In April, 2021, the Wall Street Journal's real estate section stated that the Coeur d'Alene area was the hottest housing market in the country (it currently ranks in the top ten).
Two months later, the New York Times wrote a glowing article about the best summer beach resort communities around the world, and it featured Coeur d'Alene, Idaho, along with locations in the Caribbean and on the Baltic Sea.
These are hardly small-town publications. So it is not surprising to anyone in this area that the sparkling gem that is Coeur d'Alene, Idaho, is no longer the secret haven it was even a decade ago. And while many people around the country view Coeur d'Alene as more of a resort or vacation destination than a place to relocate, plenty of others have decided that Coeur d'Alene is the place they want to call home.  
Vacationing at Home in Coeur d'Alene, Idaho
For many others, our beautiful city is simply their hometown - the place they grew up.  Offering all the best qualities of the Pacific Northwest, Coeur d'Alene has always been a desirable place to live. 
First of all, Lake Coeur d'Alene and its surrounding environs are stunningly beautiful. In addition to their picturesque aspects, the lake and its connected rivers offer tremendous recreational opportunities for water enthusiasts: boating, sailing, water-skiing, parasailing, fishing, rafting, paddle-boarding, and so on. It also offers numerous opportunities for other outdoor pursuits such as hiking, zip-lining, and cycling, and is in reasonable proximity to the world-class Schweitzer ski destination. 
Second, it offers many benefits of a modern cosmopolitan lifestyle provided in a small-town setting. Coeur d'Alene has fine dining, a world-class resort, top-notch golf, enjoyable music and theater, all within an hour of a major metropolitan airport. The city regularly hosts the IronMan race, and has been chosen as a site for hydroplane racing events. Coeur d'Alene is also considered one of the best places in the country to enjoy the Christmas season.
Finally, Idaho offers low taxation, low crime rates, and still ranks as having a lower cost of living than other states. Idahoans enjoy all four seasons, with lush springs, long summer evenings, vibrant fall colors, and white winters.
All of these factors taken together mean that many people want to be able to call this community "home." But that desirability comes with a problem: there are just not enough houses on the market to meet the growing demand.
Coeur d'Alene Needs to Accommodate Growth Wisely
Coeur d'Alene's growth has led to a serious housing shortage in the area, and that housing shortage has led to skyrocketing real estate prices. Housing prices have far outpaced inflation, essentially doubling in the last five years, going from a median house price 250,000 in 2017 to over $540,000 in 2022.  
But before wringing our hands too much about this state of affairs, we should remember that Coeur d'Alene has previously experienced periods of rapid growth. From 1970 to 1990, Kootenai County's population doubled, and from 1990 to 2010, the population doubled yet again. And that growth has not undermined the area's charms.
Since 2010, Kootenai County's population has increased by 78%,and its population density has gone from something under 110 people per square mile to just over 130 people per square mile. While that is significant, to put it into perspective, while it is higher than Idaho's overall population density, Kootenai County is still less densely populated than the state of New Hampshire.
So the real problem is not over-crowding per se, but how to accommodate this growth while still maintaining the overall rural, outdoor-recreation oriented, and small-town character of this area, as well as maintaining a high quality of life for area residents. 
There is no doubt that more housing needs to be built, but increasing the housing supply should be done strategically, with our eyes open. Wise and prudent choices need to be made about the mix of housing types, keeping in mind the need to provide affordable housing to a broad spectrum of people with differing income levels, and the desire to enable local residents–and their growing children–to be able to afford to stay in the area. 
The last thing Coeur d'Alene needs is to drive out the people who have lived and grown up here, the people who make this area one of the friendliest and most polite places to visit and to live, and who should encourage all newcomers to adopt the characteristics and healthful lifestyles that make Idaho Idaho.
The Coeur d'Alene Regional REALTORS® is invested in making sure the Coeur d'Alene area remains a gem, despite growth and despite its new-found fame. We welcome your involvement so that, together, we can keep improving on the region we all call home. For more information, visit our website.